Thank you so much for your interest in my art, I so appreciate you taking the time to visit my website.  I am just setting up this Ecommerce website and I am so excited for my first listings to be these wonderful "Wildish Spirits Candles that are a collaboration between Anna at Anberc Candles and my Wildish Spirits artwork.  Here is a photograph of the collection.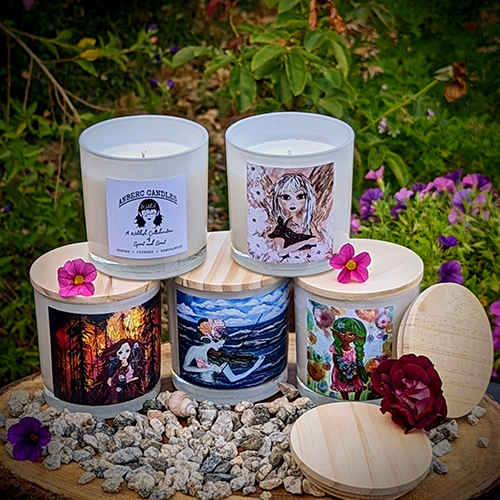 Below is my Artist Statement, Bio and CV.
If you have any questions or need further information, I can be reached at my studio: 626.344.2787 or send me an email at janell@janellmithani.com. 
Have a wonderful, creative, day filled with joy!  –Janell
Artist Statement 
A world of radiant enchantment merged with the lush details of the forest inspires me to create art.  Childlike memories of magical beings float through the landscape of my mind and fill my paintings.  I reflect on a childhood spent with the Northern California and Oregon forests as my playground.  These memories come to life and are central themes in my art. My work examines relationships between nature, animals and people as well as representing a strong protective, and nurturing awareness.   I explore intertwining those thoughts as I work to express myself through my art.
Biography
I grew up in a small rural town in the northwestern United States, the youngest in a family who loved gardening, music and the great outdoors.  I began drawing at the age of 12, took painting and drawing lessons from two local artists, and at 16, I sold my violin to buy my first camera.  I received a BFA from Southern Oregon State College (now SOU) and re-located to Los Angeles a year later.  Shortly after arriving in LA,  I met my husband and we made our home in Altadena, a small town at the base of the beautiful San Gabriel Mountains. I spent 30 years working as a graphic designer and  portrait photographer.  In 2004, I began painting again and teaching art and photography workshops to teens and adults.  Painting in acrylics and water based paints slowly became the focus of my art and I began painting full time in 2012. 
Memories of my childhood flood my mind while I paint.  I create vibrant, fantasy paintings that inspire courage and celebrate my love for animals and nature.  I work with water based acrylic paints on canvas and natural wood substrates. My series, "Wildish Spirits," brings a sense of child-like wonder to my contemporary, imaginative art.
In 2019, I began a new series of small paintings on my recycled tea bags to honor the memory of my mom.  This has evolved into an ongoing, experimental series of works exploring water based pigments on recycled tea bags, collaged onto a stretched canvas. 
CV 
Education
BFA, Southern Oregon State College, Ashland, OR, 1984
Galleries
Venus Neon, Hollywood, CA
Colonnade Gallery, Pasadena, CA
HOOPLA! Altadena, CA
Xanadu Gallery (Online)
Museum Exhibitions
1984   Mannequin, Solo Exhibit, Jacksonville Museum, Jacksonville, OR 
Selected Solo Exhibitions
2014   Solo Exhibit, UMC Fine Arts Program, Pasadena, CA
2014   Solo Exhibition, Zephyr Coffee House and Gallery, Pasadena, CA
2012   BUD, Solo Exhibit/Book Signing, Bruggemeyer Library, Monterey Park, CA
2011   BUD, Solo Exhibition and Book Signing, Altadena CA
2008   Solo Exhibition, Alhambra City Hall Gallery, Alhambra, CA
1984   Solo Exhibition, Central Gallery, Southern Oregon State College, Ashland, OR


Selected Group Exhibitions
2021   "Proyecto Artístico Comunitario Internacional: Tzompantli Reflexión artística del año 2021," Tzompantli 2021 Artistic Introspection International Traveling Exhibition and Video, throughout Mexico and USA.
2020   Tzompantli:  Reflexión Artística Traveling Exhibition and Video, Mexican Consulates, Oxnard, CA and Austin, TX. Video shown at Mexican Consulates throughout the USA.
2020   Tzompantli:  Reflexión Artística 2020 Exhibit, Ministry of Foreign Affairs, Mexico City, Mexico
2020   Wanderlust, Online exhibition
2020   Group Exhibition, California State BPW Conference, Van Nuys, CA
2019   Memories: Dress and Tea Exhibition, Southern California District BPW Conference,
Burbank, CA
2017   Spring Exhibition, Stone Cottage, Montrose, CA
2016   Pasadena/Altadena Juried Open Studios Art Tour, Altadena, CA
2016   Evening of Art, Group Exhibition, Art Space Gallery, Altadena, CA
2015   Pasadena/Altadena Juried Open Studios Art Tour, Altadena, CA
2015   Spring Forest, Group Exhibition, Hoopla, Altadena CA
2014   Pasadena/Altadena Juried Open Studios Art Tour, Altadena, CA,
2014   Elements, Two Person Exhibition, Alhambra City Hall Gallery, Alhambra, CA
2011   Water and Trees, Group Exhibit, Alhambra City Hall Gallery, Alhambra, CA
2010   Trees R Us, Group Exhibit, Neon Venus Gallery, Hollywood, CA
2009   Featured Artist, ArtNight, Pasadena, CA
2008   Exhibiting Artist, Altadena Home Tour, Altadena, CA
2005   Manga Art, Exhibition, Group Exhibit, Pasadena Library, Pasadena, CA
Public Art Installations
2020   Spring Flamingo Installation, Public Art Project, City of Alhambra, Alhambra, CA
2019   Winter, Public Art Installation, City of Alhambra, Alhambra, CA
2018   Coffee & Radio, Public Art Installation, City of Alhambra, Alhambra, CA
2018   Spring, Public Art Project, City of Alhambra, Alhambra, CA
2016   Public Works, Public Art Installation, City of Alhambra, Alhambra, CA
2014   City of Montrose Juried Art Walk, Summer and Fall Exhibitions, Montrose, CA
2013   City of Montrose Juried Art Walk and Painting Demonstration, Spring, Montrose, CA
Selected Collectors and Clients
Avon Products, Inc.
City of Alhambra
City of Pasadena
Corporate Icon
Cross Northwest
Dydee Diaper Service
Girl Scouts of America
Glendale Builders' Supply
Juvenile Diabetes Research Foundation
Dr. Eleanor Leung
Sally Mihlon & Associates
Pasadena Symphony
SGI Construction
The Seville Group
The Walt Disney Corporation
WMW Group
Private Collectors-Worldwide
Bibliography 
Guest Speaking
Speaker, Bruggemeyer Library, Arts Program, Monterey Park, CA July, 2017
Speaker, Bruggemeyer Library, Monterey Park, CA, April, 2012
Speaker, Literacy Luncheon, Pasadena CA, February, 2012
Speaker/Judge Tee Photography contest, Pasadena, CA July 2011
Speaker/Critique, Professional Photographers of Santa Clara Valley, July, 2007
Speaker/Exhibition, San Fernando Valley Professional Photographers, October, 2005
Guest Lecturer
Lecture/Presentation/Critique, Pasadena City College, 2009
Lecture, Pasadena City College, 2008
Authored Publications
BUD, A Collection of Floral and Baby Art. Published book, 2011
Television
Cindy Costales Interview, MPK-TV, Monterey Park, CA, April 3, 2012
Print Media
Prof. Denise Lugo, Curatorial Statement, In Memory of my mother, "Tzompantli:  Reflexión Artística," 2020
 Valerie Bueno, The Natural Beauty of Janell Mithani's Career, Profile for San Deigo, CA, 2020
Anne Marie Johnson,  California Federation of BPW Newsletter, "A Day of Issues," 2019
Exhibition Catalog, Open Studios, Alta-Pasadena, Wildish Spirits, 2016 
Exhibition Catalog, Open Studios, Alta-Pasadena, Parrot Tulip, 2015
Colleen Commentz,  Around Alhambra, "Art From Above and Beyond," November, 2014
Exhibition Catalog, Open Studios, Alta-Pasadena, 2014
Around Alhambra, Exhibition announcement, bio and photograph, Spring, 2011
Anne Marie Johnson, California Federation of BPW News, "From Bloomers to Boardroom," 2010
Around Alhambra, Exhibition Press Release and Photograph, August, 2008
Studio Photography Magazine, "Peer 2 Peer", June, 2008
Wet Set Gazette, Photograph Vol.8, August, 2007
Cover, Wet Set Gazette, Vol.1, January, 2005
Cover, Wet Set Gazette, Vol. 2, February, 2004
Cover, Wet Set Gazette, Vol. 10, October, 2003
Article and Bio, BPW, Business Life Magazine, September, 2004
Bend Tidings, Press release and photographs, Bend, OR, 1985
Ashland Tidings, Press release for Exhibit, Ashland, OR 1984
Medford Mail Tribune, Photography, Medford, OR 1984
Ashland Tidings, Photography, Ashland, OR 1984
The Britt Festival, Photography, Jacksonville, OR 1984
KSOR Radio, Guide to the Arts, Photography, Ashland, OR, 1984
Senior Ventures, Original artwork and Illustrations, Ashland, OR 1982-1984
Online Periodicals and Blogs
Tzompantli: Reflexion Artistica 2020  Video https://www.youtube.com/watch?v=HTpkXRW2qWoSmriti 
Valley Sunset News, BPWcal.org, October 2019
Blogsite, Happy Creative New Year, January 25, 2018
Bob McClinton, The Orange Cat, Workshop Announcements, 2015, 2016
Lori Webster, "Springtime Hoopla", Hoopla Emporium Blog, April 24, 2015
Elizabeth Melton Parsons Blog, "Artist Spotlight", February 6, 2015
Pasadena Now, Exhibition Announcement and Photograph, March 14, 2014
Pasadena Public Library, Teen Blog, Workshop Announcements, Pasadena, CA, 2014
EGP News, Speaking and Exhibit announcement, March 30, 2012
San Marino Patch, Art Workshop announcement and photograph, San Marino, CA, 2012
Selected Art Workshops
Teen Mixed Media Art, Alhambra, Library, Alhambra, CA November 2021
Moon Garden Art, Alhambra Library, Alhambra, CA, 2019
Outdoor Garden Art, Pasadena, CA, January 2018
Paper Art, Adults, Pasadena, CA, December 2017
Beginning Floral Watercolor, Bruggemeyer Library, Monterey Park, CA July 2017
Sea Themed Watercolor, Pasadena, CA, July 2017
Mixed Media Collage, July 2017, Bruggemeyer Library, Monterey Park, CA July 2017
Self Portrait Painting, July 2017, Bruggemeyer Library, Monterey Park, CA July 2017
Fairy Art Garden, Teens, Alhambra, CA, June 2017
Fabric and Mixed Media Pendant Workshop, Pasadena, CA May 2017
Tea and Mixed Media Painting, Hill Branch Library, Pasadena, CA, March 2017
Acrylic Painting Workshop, Fall Inspired Nature, Pasadena, CA, August 2016
Acrylic Painting with Teens, Pasadena, CA, July 2016
Teen and Children's Fairy Art Gardens, Pasadena, CA, June – July 2016
Teen Acrylic Painting, Pasadena, CA, June 2016
Contemporary Tree Painting, Pasadena, CA, April 2016
Mixed Medium Miniature Books, March 2016
Mixed Media jewelry art, Teens, Pasadena, CA, February 2016
Zombie Manga Drawing and Inking, Pasadena Public Library, October 2014
Acrylic Painting on Australian Tree Bark, Pasadena, CA, July 2014
Manga/Anime Drawing and Inking, Pasadena, July 2012
Australian Dot Painting on tree Bark, Pasadena, CA, July 2012
Manga/Anime Art Drawing and Inking, Alhambra and San Marino, CA, June 2012
Art Jewelry, Belles Nest, Sierra Madre, CA, June 2012
Art Jewelry, Belles Nest, Sierra Madre, CA, May 2012
Manga/Anime Art Drawing and Inking, Belles Nest, Sierra Madre, CA March 2012
Art Jewelry with Teens, Belles Nest, Sierra Madre, CA, February 2012
Beginning Jewelry, Adult Workshop, Sierra Madre, CA, September-November 2011
Photography Week, Workshop with Teens, Pasadena CA, August 2011 
Wire and Mixed Media, Two Week Workshop, Pasadena, CA July 2011
Photography Week, Workshop with Teens, Pasadena CA, July 2011
Manga/Anime Drawing week- long Workshop with Teens, San Marino, CA, June 2011
Painting Around the World, Week-long Workshop with Teens, Pasadena, CA, June 2011